Real World Story:
When I walked into the lobby of a Doubletree hotel during my last busy travel day, I saw two employees standing behind two counters that were separated by about 8 feet in distance.  I paused, looked at each one several times, and expected an immediate acknowledgement, smile or hello from either employee. Neither was helping another customer, so I didn't think a simple acknowledgment was too much to ask for. However, both employees just stared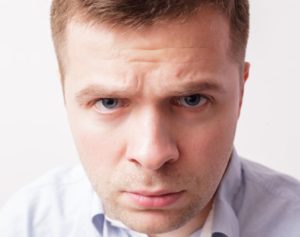 at me in silence. Several times, I looked left then right, left then right, trying to decide which one would be bothered less by me. I chose the employee on my right. As I approached the counter, I immediately said, "I'm checking in." I handed him my credit card and ID. He mumbled a few words; I think he said I was organized or something. He then continued to type away on his computer. When he asked how many keys I needed, I replied, "Thirty two. I'm expecting to have a busy night." I anticipated a laugh, a look of surprise, SOMETHING. Instead I got nothing. I quickly said, "Two is good." Now I felt awkward and silly. He obviously didn't have any interest in my sense of humor or me.
After completing my registration, he hands my room keys to me and points to the room number. I noticed several coupons behind the key, so I instinctively asked, "What are those?" He said, "Oh, that's your breakfast coupon." Naturally, I asked, "Where is breakfast?" He points to an area behind me.
This whole conversation felt difficult and strained. Why did I have to ask questions to simple details regarding my stay? I even had to ask him where the elevator was located. Ugh! What a disappointing start to my visit, especially since I have previously experienced great service at Doubletree hotels. And even though I had a great dinner in the restaurant that evening, a great breakfast the next morning, and a great check-out, my bad first impression during check-in tainted my entire experience.
Strategies that Turn it Around:
Greet customers immediately. If you're in a customer facing position, welcome customers immediately with a smile, a head nod, a wave—SOMETHING! A simple acknowledgment puts your customers at ease and lets them know you are paying attention.
Mirror customers' personalities. If customers joke with you, then joke back—or at least pretend to acknowledge what they've said. Treat them like your trusted guests and not a bother.
Explain the details. Make a list of customers' most often asked questions. Then make the answers a routine part of your instructions to customers. Where is the elevator? Where are the bathrooms? Where is breakfast served? What are these coupons for? Explain to your customers the little details, so they don't feel stupid having to ask for clarification.
Remember: The strategies outlined above are part of making great first impressions, which are lasting impressions.  Bad first impressions are very difficult to change, and it's what people remember most—for a long time!
What do YOU do to create a positive and lasting first impression? Please share your ideas and stories.